PCI DSS certification: why it's important for the financial sector
Nowadays, protecting data is a must for any company. A necessity that becomes greater every day. In some areas such as the financial sector, this is even more relevant. After all, the data and information are sensitive and extremely important. To ensure this high level of protection is why PCI DSS Certification exists.
Are you familiar with this certification?
For the financial sector, it's essential on several levels: it involves and aligns all those involved in the transit of banking data. In other words, every company that acts as an intermediary between consumers and their purchases, whether in person or online.
Today, the PCI DSS Certification is uniquely important around the world. How about understanding more about it, its requirements, and its importance? Keep reading!
PCI DSS Certification: what is it?
The PCI DSS (Payment Card Industry – Data Security Standard) Certification is an industry standard for securing credit card use. Thus, PCI DSS Certification is nothing more than an international guideline which aims to establish good practices and standardized rules for card transactions.
It's a security standard that must be followed and submitted to audits from time to time. The PDI CSS Certification is applicable in both in person and digital payment situations.
This certification was developed by the Payment Card Industry Security Standards Council, a kind of association of giant operators (such as Mastercard, Visa, American Express, and other companies).
The aim is to assess security conditions and establish a minimally safe ground for your cards (and therefore your clients' data) to be used.
What are the requirements for a company to obtain the PCI DSS certification?
The PCI DSS Certification has some predefined requirements to establish the Payment Card Industry Data Security Standard. There are 12 requirements, divided into 6 objectives. Check the table: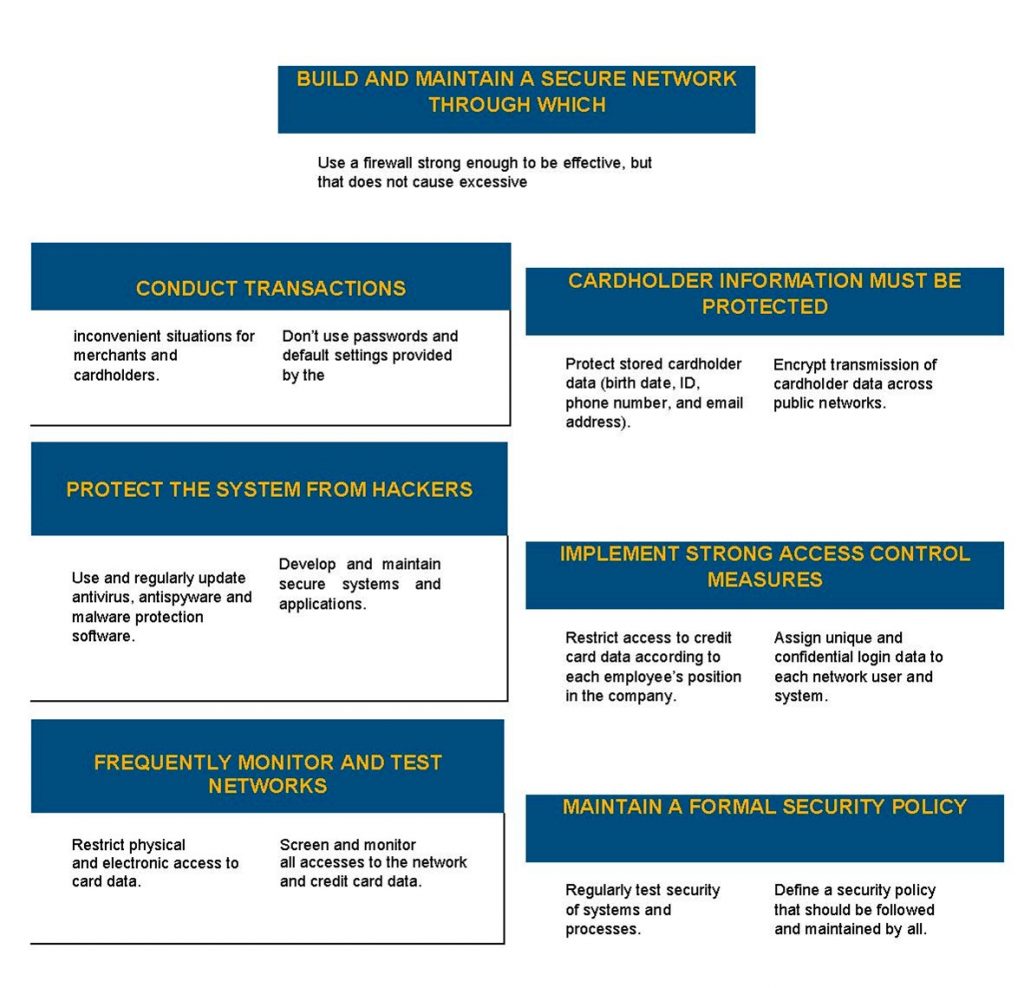 These requirements are applicable on a very broad scale within the financial industry. Thus, all companies involved in the processing of credit card data must follow these standards.
Want to know in which sectors these companies work? Take a look:
Servers;
Applications;
Network components;
The latter are included because they can be involved in the process of transmitting, processing or storing a credit card number during business transactions. Therefore, for the correct credit card number processing to happen, these requirements must be followed!
The importance of having a PCI DSS certified partner
For e-commerce platforms, identifying a PCI DSS Certification is the first step towards looking for a good payment processor. This set of requirements constitutes a basic (and expected) layer of security that all commerce and stores rely on. It's the minimum to ensure safe sales and tranquility for consumers.
If your company works in the financial sector, in any of the layers involved in such process, having PCI DSS certified partners is a great guarantee. However, the certification being popular doesn't mean it's always followed. And this can lead to a series of problems and suspicions.
In fact, Verizon's "2020 Payment Security Report" study collected some alarming data. About only 27.8% of companies were able to maintain compliance with PCI DSS Certification guidelines in 2020. That's a drop of 8.8% when compared to 2019.
In other words, a clear sign that many companies have yet to align themselves with current required security guidelines. This may express that, among other things, these companies are not following other guidelines, such as LGPD itself.
However, your company knows: with partners who are not committed to the safety of your data, it's hard to grow and expand. So, when it comes to choosing a company, look for a PCI DSS Certified partner!
Ascenty, the largest data center company in Latin America, is PCI DSS certified!
With its wide infrastructure, it serves the big players of the financial market. The demand level is high and the need for security when each transaction is performed is extremely high. That is why the company invests in shielding, so that its clients can operate peacefully.
Want to know more about how Ascenty can help your company stand out and grow — with maximum security? Talk to one of our experts!