Ascenty is the absolute leader of Brazil's Colocation Quadrant in the ISG Provider Lens™ report for the second year in a row
Report from Information Services Group, a leading global technology research and advisory firm, confirms that Ascenty "delivers unparalleled, world-class data centers for the most demanding markets"
– Ascenty, a company with 27 proprietary data centers in Brazil, Chile and Mexico – 17 in operation and 10 under construction –, was ranked the Brazilian leader in the Colocation Services Quadrant of the ISG Provider Lens™ report for the second consecutive year. The 2021 independent survey of the Information Services Group (ISG), a global technology research and consulting firm, confirmed that Ascenty "delivers world-class data centers to the most demanding markets in São Paulo and Rio de Janeiro" and offers "consistent services" with "high customer satisfaction and retention rates."
Ascenty's leadership ranking in the report attests to its highly attractive product and service offering, very strong competitive position, and the fact that it fulfills all requirements to ensure successful operations in the marketplace. The report also regards the data center provider as opinion leader for "strategically leveraging the market" and ensuring "innovative stability and resilience."
"Our focus has always been and will continue to be to deliver service excellence to our customers. We believe that naturally leads to growth and success. We're very proud of this recognition as leaders in Colocation, because it underlines all of the hard work of Ascenty's entire team in the market," said Roberto Rio Branco, VP of Marketing and Institutional Relations.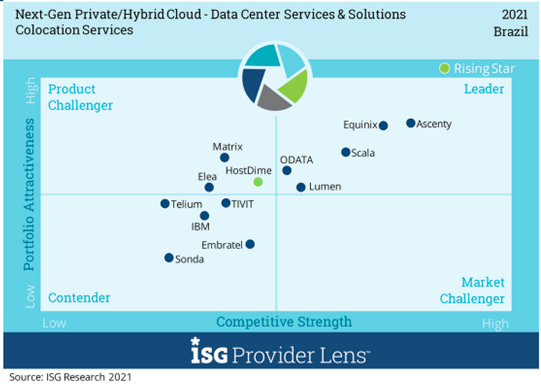 Read full excerpts of the ISG report with an analysis of the overall performance and strengths of Ascenty, justifying the company's leading position in the market:
Overview:
Ascenty, a Digital Realty and Brookfield company, has 27 data centers in Brazil, Chile and Mexico. The company's 5,000-km fiber optic network interconnects these facilities and many customers. Digital Realty has incorporated more than 290 data centers across North America, Europe, Asia and Australia. The company has been operating in Brazil since 2010, offering the largest colocation area in the country. Ascenty announced plans to further expand its operations in South America.
Strengths :
Continuous development plan: Ascenty constantly invests to broaden its infrastructure capacity. The company is building seven data centers in Brazil and three abroad. Since 2017, it has invested more than USD 30 million (BRL 150 million) to add 1,080 km (670 miles) of underground fiber network, connecting 22 cities across the states of São Paulo and Rio de Janeiro. Ascenty's proprietary fiber network offers "last mile" data center connectivity and direct connection to underwater cables to ensure global coverage.
World-class data centers: All of Ascenty's data centers strictly comply with global standards, including Tier III, TR3 TÜV Rheinland, SOC, ISO 27001, ISO 20000, PCI-DDS, ISO 14001, ISO 37001 and ISO 50001. All facilities are carrier-neutral. Ascenty's Cloud Connect offers high-speed connectivity to AWS, Microsoft Azure, Oracle Cloud, IBM Cloud and Google Cloud Platform.
Advanced service levels: Ascenty offers up to 100% contracted availability and service execution response time. Ascenty Internet Connectivity Exchange (AICX) is a service platform that enables customers to help ISPs and corporate customers access content networks across their infrastructure, offering private and secure connections between content providers and customers.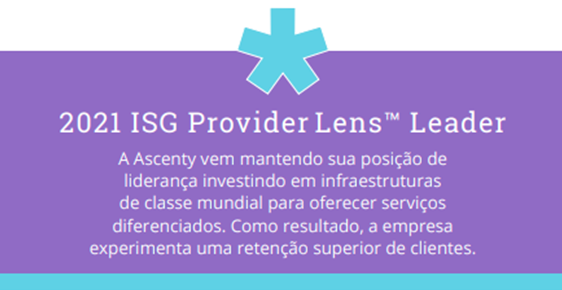 Click here to download a customized version of the ISG Provider Lens™ report.
About Ascenty
Ascenty, a Digital Realty and Brookfield company, is the largest data center and connectivity service provider in Latin America, currently featuring 27 data centers in operation and/or under construction in Brazil, Chile and Mexico, interconnected by 5,000 km of dedicated fiber-optic network. The company was established in 2010, building and operating world-class data centers to serve the world's top technology and cloud service providers, in addition to clients from the financial, retail, manufacturing, health and service integration industries. To support its expansion, Ascenty relies on its shareholders – Brookfield Infrastructure Partners, a Canadian asset management company, and Digital Realty, the world's largest data center company, with 290 units located in North America, Europe, Latin America, Asia and Australia. To learn more about Ascenty, go tohttp://www.ascenty.com
About ISG
ISG (Information Services Group) (Nasdaq: III) is a leading global technology research and advisory firm. A trusted business partner to more than 700 clients, including more than 75 of the world's top 100 enterprises, ISG is committed to helping corporations, public sector organizations, and service and technology providers achieve operational excellence and faster growth. The firm specializes in digital transformation services, including automation, cloud and data analytics; sourcing advisory; managed governance and risk services; telecommunication, strategy and operations design services; change management; market intelligence and technology research and analysis. Established in 2006 and based in Stamford, Connecticut, ISG employs more than 1,300 digital-ready professionals operating in more than 20 countries – a global team known for its innovative thinking, market influence, extensive technology and industry know-how, and world-class research and resources based on the industry's most comprehensive marketplace data. Go to www.isg-one.com to learn more.
Press office
Advice Comunicação Corporativa
Alexandre Lyra | [email protected] | +55 11 99265-5036
Fernanda Dabori | [email protected] | +55 11 99211-5097
+55 11 5102-5252 | +55 11 5102-5257